Technokontrol Black Night Viper Technologies & Alien Aviation
Technokontrol Black Night Viper Technologies & Alien Aviation have united their efforts to create the most technologically advanced experimental aircraft in the world. All efforts are to create aviation products and to break the boundries of flight and the aviation industries imagination and open the skies for new innovative aviation technologies.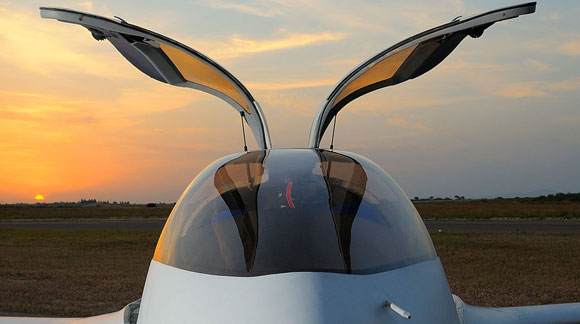 This aircraft is searching and breaking all design, technological, ultra-modern materials and prove that this new version of aircfrat can be applied and used for any market but especially for government or corporations which need many flying hours and flying experiences of larger or more powerful aircraft and jets but at the fraction of the normal cost from purchase, maintenance and to fuel usage.
We have designed our aircraft to fly with propeller driven engines even with diesel fueled engines or petrol powered-fueled engines and for that special client or special corporate or government law enforcement/military program we offer the possibility to use two jet powered engines with more than 200bhp  to reach its maximum flight potential breaking the 460-+500km speed barrier. Future engine power plants to create alternative energy-power sources as the TK-RF5000 electromagnetic powered engines will also be tested as part of the also known "Eagle Eye RF5000-Tempest Program".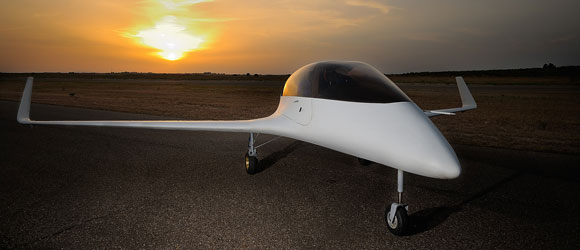 Technokontrol Aviation has been able to demonstrate the viability technically and financially of the well known "Eagle Eye Aviation Program", where we have been able to design nine different versions from the "Law Enforcement Eagle Eye III"; to the "Eagle Eye IX-Anti Submarine/Deep Sea Research Aircraft".
All of our aircraft versions are designed, built, manufactured to find a well balanced long term use and financial viability by using these aircraft as much as possible due to being able to use the most advanced technologies in the market as night/thermal/long distance vision cameras, bullet proof undercarriages, anti-explosion fuel tanks,etc. All of these applied technologies, electronics, defence systems are applied at a fraction of the cost of any other similar aircraft and even much less expensive than any commercial or military alternative.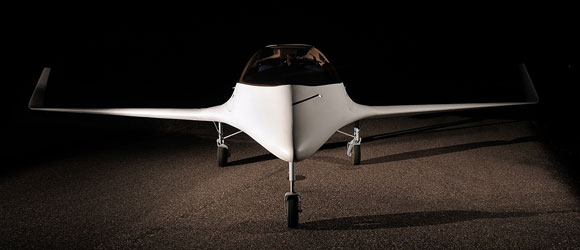 The "TK-Alien Black Night Viper Aircraft" when compared with the simplest of even helicopters as for example the R22-R44 which has a "real maintenance cost" of aprox. 300 USD per flight hour and a fuel consumption per hour of up to 70 litres of fuel while any of our "Eagle Eyes" versions have extreme low cost maintenance costs of under 30 USD per flight hour and normal fuel usage as gasoline 92 octane of 10-15 litres per flying hour thus making our aircraft extremely financially effective especially during this financial crises and tight purchase/investment budgets in these kinds of technologies and aerial platforms.
Just the financial savings, low maintenance costs, easy to fly, no private or commercial licence requirments makes our aviation alternatives a very realistic and pragmatic way to protect, defend, gather information-surveillance for a nations strategic interests, protecting private national or international corporations foreign assets or even for the simple personal or sport enjoyment of flying with a viable financial aircraft.
This will also occur with our "TK-Alien Black Night Viper Aircraft" which has an extreme long flight range of over 1,500-2,500km as have already any of our "Eagle Eyes" versions, which is unique to our aviation products and wishing in the future to break the world record for the longest range aircraft for size. Once finished our R&D we believe that we will be able to reach the 22,000km range with some reserved fuel types and confidential flight assets.

Applications
Double use possible as a two seater aircraft/one seat aircraft and DRONE usage if required.
UCAV (Non-piloted combat-surveillnace aircraft).
DRONE usage with easy flight control technology.
Satellite communication receiver to use as a telecom aerial platform.
Target Aircraft and fighter pilot training usage.
R&D aviation programs.
Environmental control, air pollution control, forestry, fishing grounds, etc
Surveillance and terrain research, evolution,agricultural programs.
Aerial Photography.
Law Enforcement, Special operations,etc.
Aircraft trainer for flights armed forces cadets/schools or low cost trainer.
Drug enforcement, terrorism, DEA operations, etc.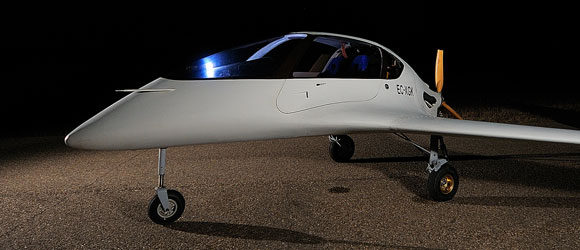 Technical Data
Unique design and specialist and technologically advanced fabrication materials
| | |
| --- | --- |
| Interior undercarriage system | Automatic. |
| Engine: Turbo diesel engines | 110HP/150HP/180H |
| Propeler diameter | 130cm |
| Wing Span | 8,3 m. |
| Height | 1.6 m |
| Lenght | 4 m |
| Weight MTOW | 550 kg/950 kg |
| Wing pressure | 50/85kg/m2 |
| Volume | 1.2 m3 |
| Aircraft weight (with fuel) | 200/600 kg |
| Take off speed | 80/95 km/h |
| Landing speed | 70/90 km/h |
| Max.speed at present with diesel engine | 350 km/h/+500km |
| Vertical speed | 6m/s |
| Flight time (Vcr.280 km/h@65%HP) | ≥8/54 h |
| Range | ≥2.200/14.000 km |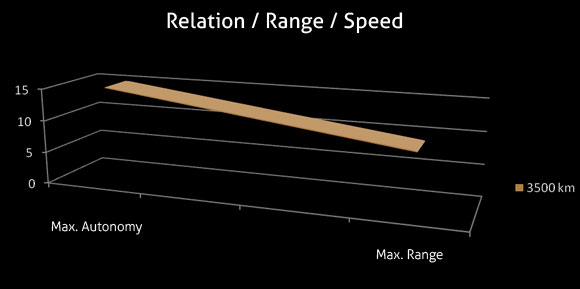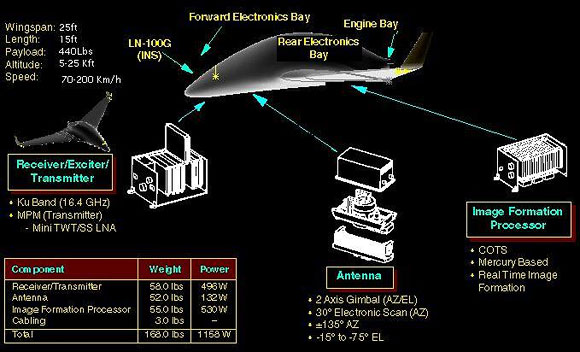 Design & Fabricaton
The "TK-Alien Black Night Viper Aircraft" uses the best and technologically advanced fabrication technologies. Our aircraft uses the largest possible amount of non-toxic and environmentally friendly materials, minerals,paints,etc.
Our designs allow us to break traditional flight-avionics technologies by saving fuel and reducing engine/fuel consumption thus saving CO2 contamination from 30-45% of any similar aircraft especially when using modern-efficient powered motors.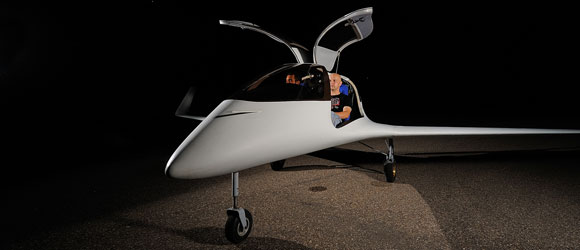 The design of the whole concept allows great speed, stability, massive "G" reaching up to +10G in extreme flights and exceptional long range flights with the options of diesel, gasoline and jet engines to make paramount different clients needs as speed, range, fuel consumption, long range Drone use or to a high speed jet trainer.
TK-Alien Black Night Viper Aircraft Selection of Engines: Diesel, Petrol, & Jet Powered.
Press Play to Watch Alien Black Night Viper Jet Engine Animation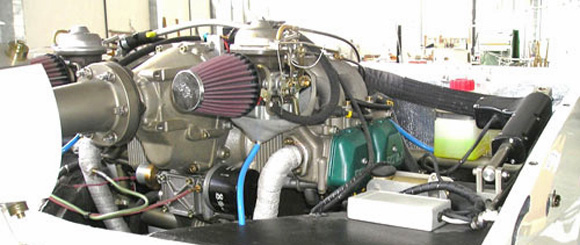 Alien Black Night Viper Diesel/Petrol Engines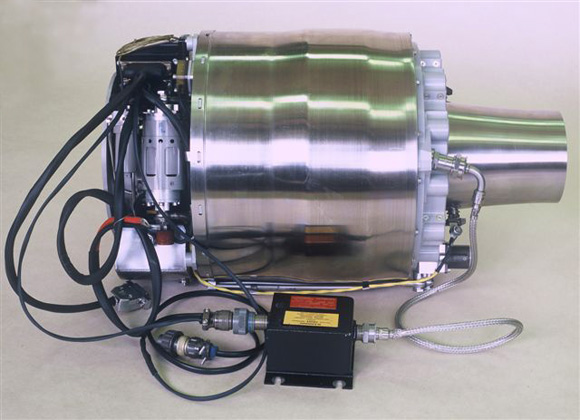 Alien Black Night Viper Jet engines for that professional/military pilot programme
Technokontrol wishes to allow our clients to be able to select from a selection of aircraft engine ranges from our diesel engines, petrol engines or jet engines. Each engine has its "pros & cons", thus the client wishing extreme range as their paramount issue as being able to reach over 4,000 km in one single flight at an average cruise speed of between 300-350km the diesel option would be the best option. If the client wishes more thrust, more speed and less range and fuel consumption isn´t paramount then the petrol engine versions would be selected.
In the event that the client wishes, extreme speed, over 500kph, extreme "G forces"+10g, and having the experience of flying a "modern day training jet fighter" then the "Alien Black Night Viper Jet Fighter" with its "jet engines ", is the only real option as the experiened jet pilot will have the same speed and gravity forces as a modern day jet fighter but with a fuel consumption of 200 litres per hour instead of the +2,000 litres per hour and with extreme low maintenance costs of the "Alien Black Night Viper Jet Fighter". The "Jet" version is reserved only for the extremely well experienced pilot or jet pilot.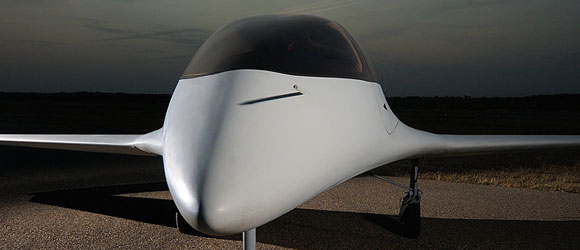 Military Aviation
Technokontrol Certificates & Associations
Technokontrol Manufactures, Designs & Researches our safety products in the European Union at the highest possible International Accident,Health & Safety standards.
TechnoKontrol is a member of the NFPA

TechnoKontrol Products are ATEX Compliant
(European Antiexplosive Safety Directives)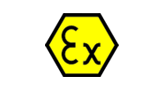 Technokontrol's Products & Services are insured by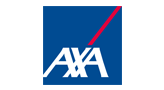 Certificates