TK-ARTS LOGITISCS DIVISION

TK-MUSEUM ART/ANTIQUES SECURITY & SAFETY MOBILE/TRANSPORTABLE-STORAGE CONTAINERS (MAASSMSC)
Technokontrol and its R&D team are in continuous evolving safety, security programs, technologies and systems to which we try to create our vision of worst case scenarios and to find viable, efficient, pragmatic systems and technologies.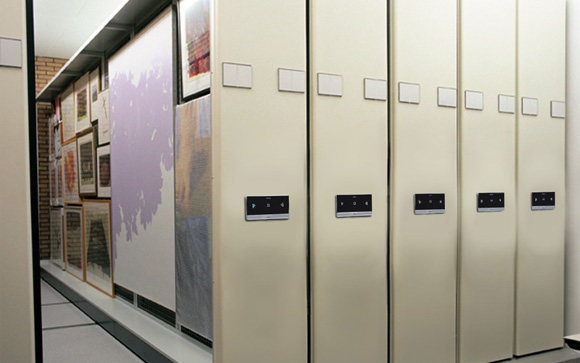 Technokontrol has always been at the forefront of safety & security technologies to prevent and to protect assets, persons, valuables against all types of emergencies as fires, accidents, terrorist attacks, criminal acts, accidental scenarios and even climatologically protection as tsunamis, hurricanes, tornadoes, wild fires, flooding at global level and to which as long as man and nature are involved may always occur at any time and place regardless of the present safety and security systems in place especially with the storage, transport and logistics of extreme historical valuables, art, paintings, statues, tapestries , documents, books, inventions at museum or private level.
We at Technokontrol have designed, patented our unique safety technology and security systems to protect and to act in a preventative manner and to "attack head on" worst case scenarios of any type of possible damages of any kind against valuable assets of any kind and in any circumstances.
THE MOST ADVANCED SECURITY AND ASSET SAFETY TECHNOLOGY FOR ART STORAGE, TRANSPORT AND GLOBAL LOGISTICS
The design of our safety and security technologies for the protection of fine arts, museum pieces, tapestries are built into several standard sized security containers denominated as "TK-ARTS CONTAINERS".
As the norm in today's arts storage and transport is  using cardboard boxes, fillers, bubble wrap, enveloping/packing systems mainly made of wooden crates, filled will plastics, foams, and all flammable, toxic, fume creators with ignition or even physical damage due to melting, ignition due to electrical contact and of course and much weaker structurally as what we at Technokontrol R&D have designed and patented.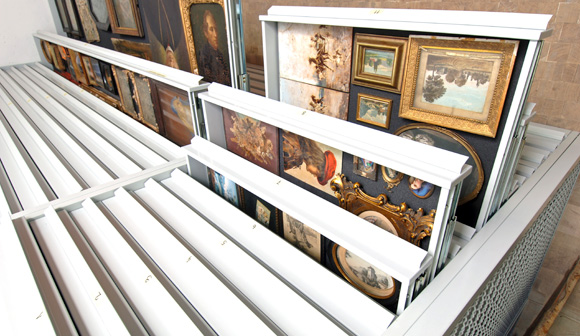 Why not increase the standards using TK-ARTS Containers?
Our TK-ARTS safety Systems and Security technologies have the following unique properties and benefits and due to not changing the present used systems of packing, crating, transport will not affect the museums transport, insurance procedures and coverage, security procedures, thus maintaining all fully stipulated and international directives for the movement, storage and transport or fine arts, museum pieces, valuable and assets at all levels.
Thus being an extra and of the highest of levels for the maximum protection and being 100% re-used as the used materials are long lasting, strong, effective and efficient and their operational life can be for decades and once operational no further maintenance is required and having a ten(10) year guarantee.
It's very possible that once an insurance company has seen the extra protection, security and safety levels and the minimum risk to the arts pieces and assets that the insurance premium should be reduced to which the amortization of the initial invest just due to this insurance premium should be a positive factor without the additional extra safety and security which can´t be covered even by insurance as many of these art pieces are irreplaceable and not even  of financial value due to their historic, social and humanity value.
100% Fire Proof.
100% Water Proof.
100% Electrostatic Protected.
External metal, stainless steel, aluminum panels on each layer of the container to avoid oxidation, corrosion, algae and dirt on or into the container.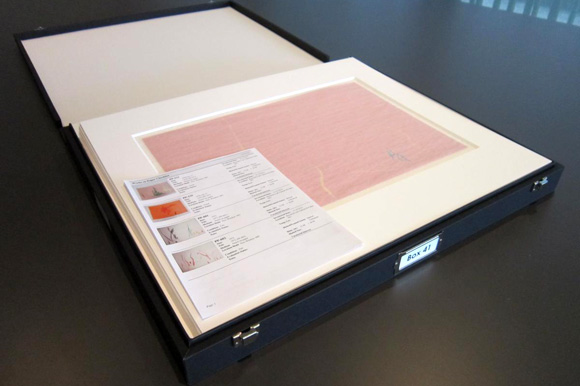 100%Fume/Vapor/Humidity/Smoke Proof/Thermal heat/Flame/Ignition Proof.
100% temperature protection up to and over 1200ºC for over 240 minutes RF240.
GPS and Satellite Tracking technology for full continuous container tracking against possible theft, loss, erroneous deliveries or transport delays.
Climate, humidity and internal physical data of the container while closed, in transit, storage or during transport.
Internal infrared, night vision camera system for full internal view of the interior of  the container while in transport or storage to assure status of the asset all the time.
Total Container Exterior Protection Defenders.
100% Security entry locks for delayed opening for unauthorized access.
Complete independent "AIR TIGHT AND /OR GAS FILLED PANEL SECTION" for non-ignition due to lack of air/oxygen or the injection of non-flammable gases for total increased fire , humidity and water protection at storage, on transit or at final destination.
Retractable attachable hooks which can be used by crane, manually or lifting machinery.
Wheel section pods on all sides allowing the manual movement, displacement of the whole TK-ART CONTAINER to anywhere in any location without machinery if so required.
Custom designed by size, clients needs by dimensions for specialist art pieces or availability to use standard sizes of containers to reduce cost and introducing the art pieces into standard size containers as long as they physically enter and are secure internally.
Safety Mobile / Transportable Storage for Valuable Paintings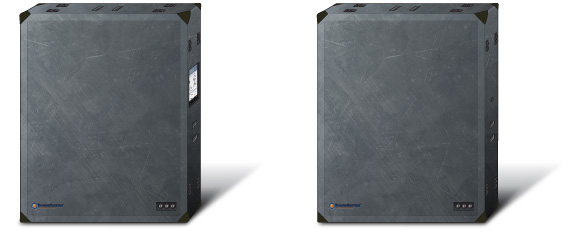 TK Arts Safety Box closed (L) and showing display for internal environment control (R)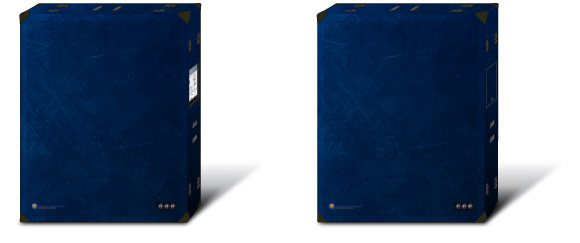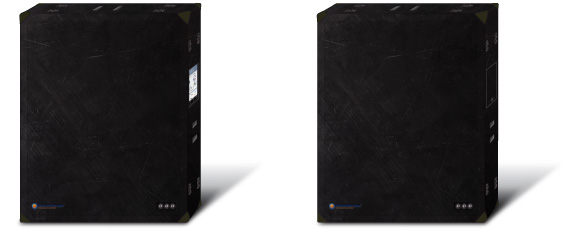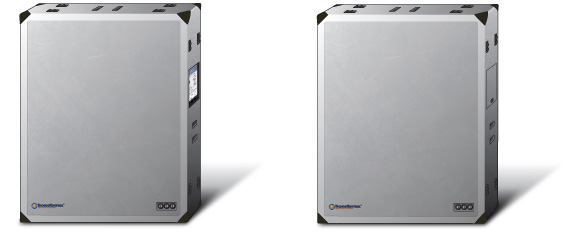 Different colors can be served to fit client's visual identity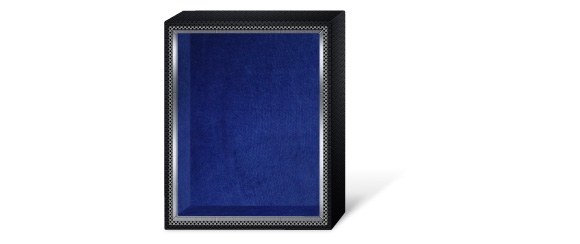 Inside of the safety box, showing the three protective layers covered on velvet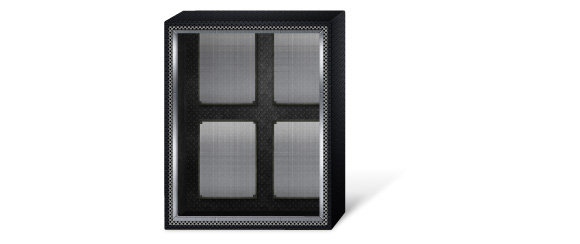 Reinforced metal heart of the safety box
Safety Mobile / Transportable Storage for Marble, Stone, Ceramics & Medium Sized/Small Valuable Objects

TK Arts Safety Box closed (L) and showing display for internal environment control (R)



Different colors can be served to fit client's visual identity
PAST & PRESENT DAY STORAGE, TRANSPORT OF VALUABLE ASSETS.
Antiques dealers, auction houses, and collectors constantly face the problems of packaging and shipping antiques and fine art. For them the risks are almost all financial and can be overcome through insurance.
Museums collect objects for their historic or artistic significance and their job is to preserve them, which means minimizing their exposure to any risk. But museums need to ship objects regularly, so when they do they go to great lengths to ensure that their charges come to no harm in the process.
Moving an object across a cellar, storage facility, whether it is a delicate 17th century porcelain figure or a monumental bronze, places it at risk. Shipping that object off to a loan exhibit at another institution, possibly in another country, exposes it to many more hazards and multiplies the risk factor enormously.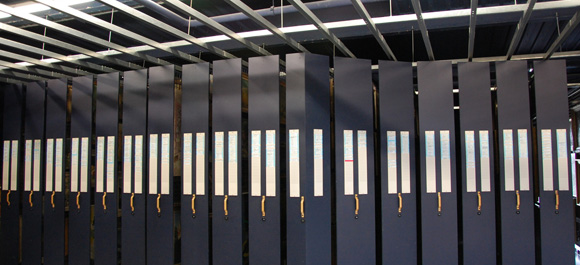 Appropriate counter measures have to be taken to ensure that every conceivable threat is minimized or eliminated. Sometimes these can seem like overkill, but museums would rather take too many measures than too few.
First things first
Every stage of an object movement has to be figured out beforehand. Where is it going and when, who will take responsibility for it there, what are the environmental conditions at the destination, how is it travelling, what insurance is necessary, and who is paying for the packing and transport?
Museums usually draw up loan agreements between lenders and borrowers to cover these and other issues to ensure that there are no nasty surprises. The condition of the object will be documented before it leaves so if there is a problem during shipping it can be proved that the damage was done in transit.
The object has to be protected on its journey from risks such as fluctuations and extremes of temperature and relative humidity, vibration and shock, impact, damp, theft, and getting lost.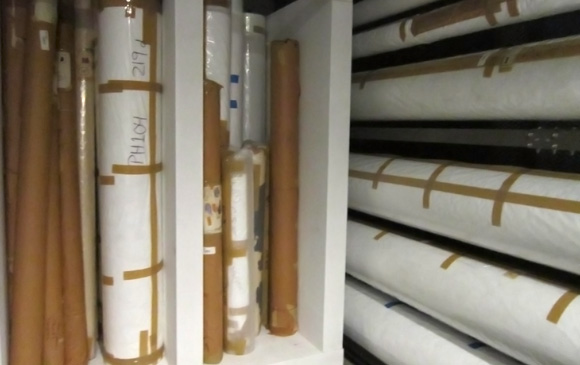 The right environment
Climate control is very important in the display galleries, in storage spaces, and often in vehicles used for transportation. Keeping temperature and humidity levels from fluctuating, or at least keeping changes as small and slow as possible helps objects remain in stable condition.
For this reason incoming shipments often remain unopened until at least 24 hours have passed to let the objects adjust to their new environment. Some items can be damaged by exposure to light. Many museums stipulate exact lighting conditions under which their object may be shown in their loan agreements, and light levels in galleries are carefully monitored.
Handling
Handling objects is done as little as possible, and when necessary, it is done wearing either cotton gloves or non-latex rubber gloves. Their purpose is to prevent contamination of the surfaces of frames or art objects with the natural oils on a person's hands.
Where cotton gloves would tend to slide, Nitrile (non-latex rubber), which is inert and non-slip, is often used, especially in handling bronzes and large or heavy items.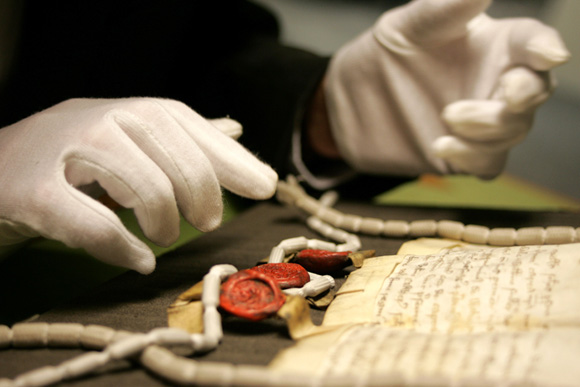 The envelope
Crating artifacts is a serious business. In general, the crate has to protect the object from vibration and shock, and to serve it's specific environmental needs. It forms a sealed envelope around the object designed to keep the external environment out. The crates are not simply wooden boxes with lids nailed on, but sophisticated constructions carefully designed to meet stringent specifications.
Crates have to offer full support for each object, protection from vibration and impact, protection from environmental and climatic extremes, and protection from light and UV radiation. Crates are generally made of wood, with lids screwed on.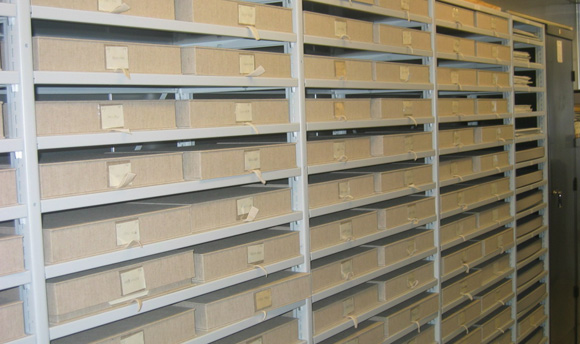 Paint helps to keep them waterproof and serves other purposes too. White paint will reflect light and keep the interior cooler, and it has a curious psychological effect — people handling a white-painted crate consider it to be more fragile and so handle it more carefully than other crates!
Crates are clearly labeled, either with stickers or painted symbols, to indicate which way up they are to travel. 'Rain' and 'sun' protection symbols and standard international 'fragile' signs are also applied. Sophisticated monitoring of artworks in transit is possible.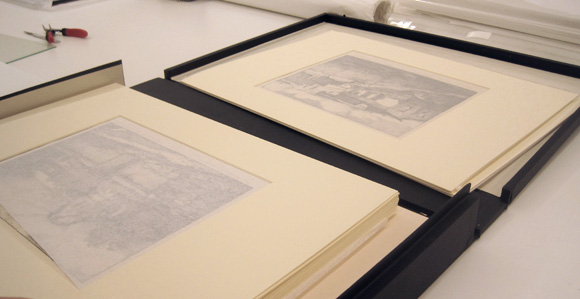 There are numerous digital recording devices available that can be placed in the crate to record temperature and humidity changes or vibration extremes.
Paintings, which tend to be both rectangular in shape and fairly two dimensional, are comparatively simple to pack. But a painting on a wooden panel can be very susceptible to changes in humidity, so conservation labs create microclimates for them.
The painting is taken out of its frame and sandwiched between Plexiglas or safety glass and a backing board to seal it in place. Usually, silica gel is placed inside and then the whole glass enclosed panel is set back into its frame. Once placed in its crate the wooden case is then sealed with waterproof paint, and the lid with a neoprene or rubber gasket. As a result the humidity changes that inevitably take place won't affect the interior of the sealed crate.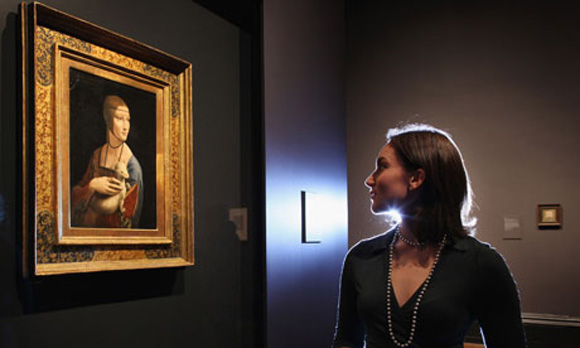 Objects are among the trickiest items to pack. Because of the limitless ways objects are shaped, their cases for shipping require more elaborate precautions. There is no standard template for a stone statue or mahogany what-not, so each crate and inner box has to be customized to fit the particular object. Either high or low-density foam is shaped to cushion each item. The space is lined with an inert non-abrasive plastic. The purpose is to block any possible vibration when moving the crates.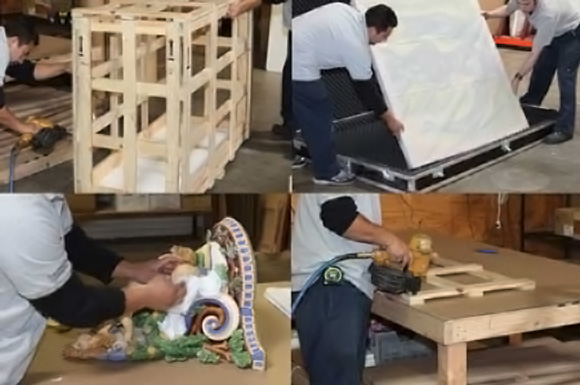 TK-ARTS / Art Packing, Handling and Installation
TK-ARTS Logistics Division offers a range of packing and crating solutions, including the premium art crating service supplied by the high-end fine art packing provider in Europe.
TK-ARTS Logistics Division will pack and crate your artworks employing the most secure and modern methods of art handling, including acclimated sealed museum art crates that will retain their climate for up to five days in transit. At the other end of the scale TK-ARTS can meet lower budget demands, offering a service that still meets clients' high expectations but that is affordable and easy.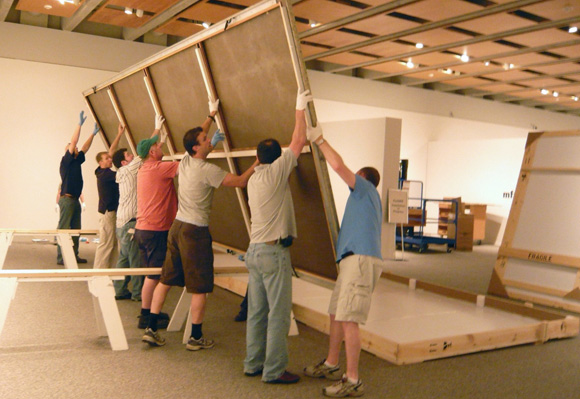 Our installation service has operational crews permanently working out of Madrid and Barcelona, while in other areas of Europe we can arrange installation with our mobile crews. Our skilled staff are experienced in installation of two-dimensional works, right through to large sculptures.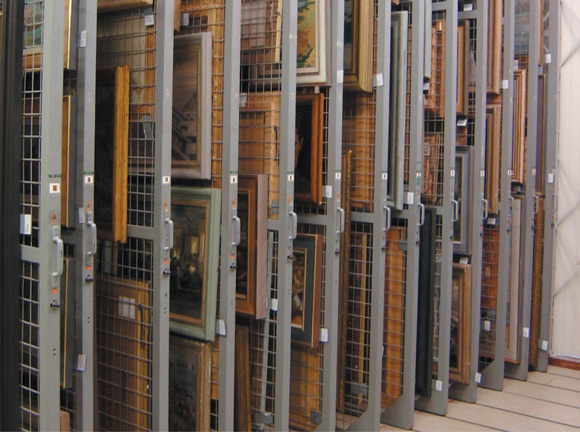 Once again our flexible and friendly team can arrange a simple hook on a wall, or a complex hanging system for large art works or for major installations.
TK ARTS-Museum Services
Museum services are the epitome of art transport specialization. TK-ARTS has experience and skill in this particularly challenging area, and draws on our expert team managers who oversee the critical packing of the artwork, and technical resources to assure clients of the optimum in crating, cataloguing, lifting and transporting of the collection.
Security is always of concern in transporting artifacts and TK-ARTS employs specialist security escort services Elite Black Night Viper Security Services, which can include personnel travelling with the pieces and secure global satellite tracking. (www.elite-viper.com)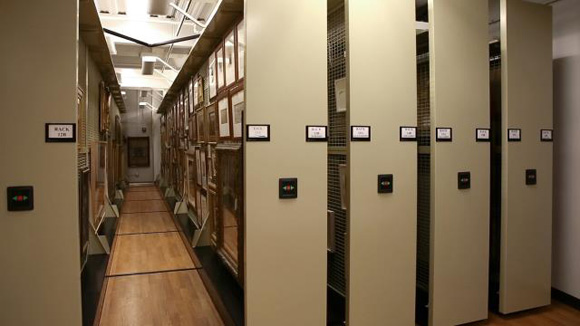 TK-ARTS also appreciates the value of local knowledge, which is provided by its strategic association with our consultants, which have an extensive global presence. This enables IAS to navigate local customs and logistics and offers a maximum security Freeport service throughout Asia, which saves clients time and expense.
TK-ARTS Art Storage
Catering to a broad spectrum of the art world, TK-ARTS maintains climate and non-climate controlled secure storage for fine art, which is accredited by all major insurance underwriters.
TK-ARTS offers discreet storage facilities in Europe for two-dimensional and three-dimensional single works of art, crated exhibitions, commercial and private collections and investment funds. These storage facilities offer short, medium and long-term periods in secure, climate and non-climate controlled environments, depending on the client's needs.
TK-ARTS International Art Transport
As part of its international operations TK-ARTS has an extensive airfreight and sea freight operation with expertise and experience in the complex area of import and export clearances whether the consignment involves single or multiple cities.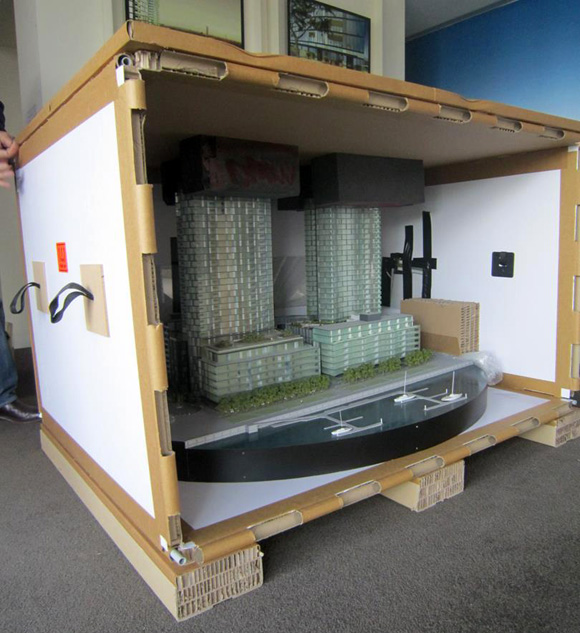 We take care of all customs, quarantine and clearance requirements on a full service basis to meet your needs. We have direct tarmac access and can securely deal with aircraft airside at all airports in Europe/USA/Asia and we have long standing relationships with all port-handling agents for sea freight shipments.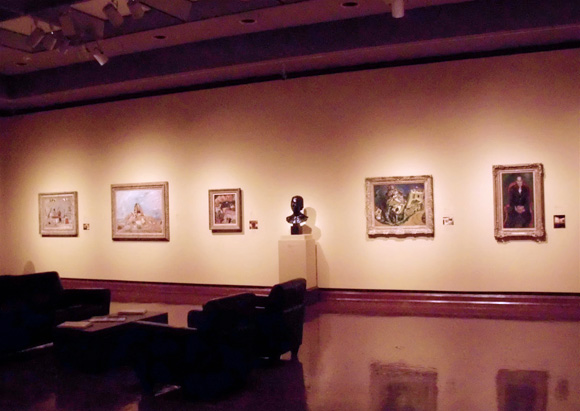 Technokontrol Certificates & Associations
Technokontrol Manufactures, Designs & Researches our safety products in the European Union at the highest possible International Accident,Health & Safety standards.
TechnoKontrol is a member of the NFPA

TechnoKontrol Products are ATEX Compliant
(European Antiexplosive Safety Directives)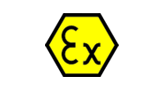 Technokontrol's Products & Services are insured by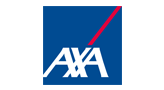 Certificates