TK-Environmental Mobile-Transportable-Logistically Operational Anti-Contamination/CO2-CO-Decontamination/Recycling Filtering Technologies
Technokontrol Environmental Mobile Chimney Filtering & Recycling Systems have also been designed and developed not only to increase the reduction, destruction, recycling of all types of "vapor, fumes, gases, exhaust" emitted, expelled from all types of industries as power plants chimneys, energy transformation exhaust systems, petro-chemical flame/gas arrester fumes, gases, vapors, all types of refineries for example, but also to create a mobile, logistical, viable and/or a fixed short-medium-long term transportable filtering, recycling, decontamination systems & technologies in which we can filter, decontaminate, recycle, obtain, retain from all types of fumes, vapors and gases the contamination particulars in such emission which may be of contaminating or non contaminating origin and/ or classified as being environmentally damaging.
Mobile Eco-Green Industries
Eco Warrior Mobile

Eco Warrior Mobile in "Protected cargo" transport mode

Retractile safety legs for improved security & strenght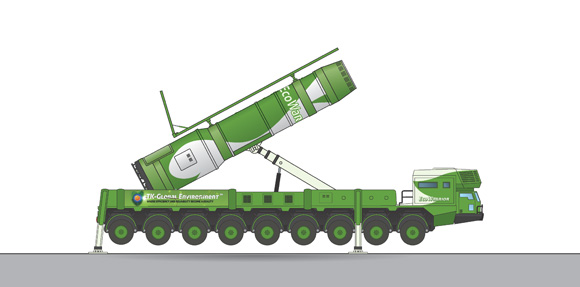 Extending chimney with integrated arm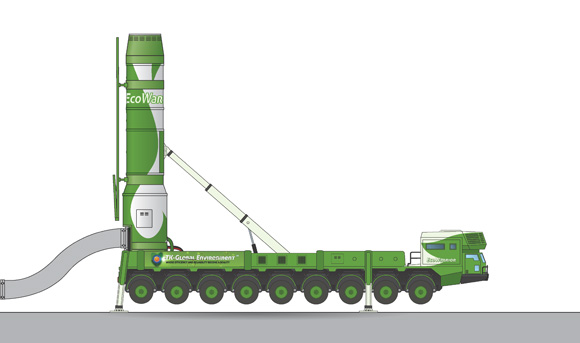 Chimney operation filtering fumes including Eco Warrior Mobile's
Eco Warrior Independence

Eco Warrior Independence in "Protected cargo" transport mode

Retractile safety legs for improved security & strenght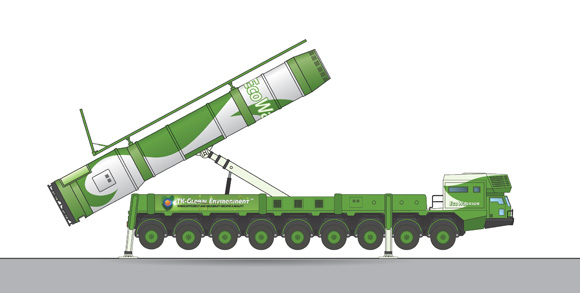 Extending chimney with integrated arm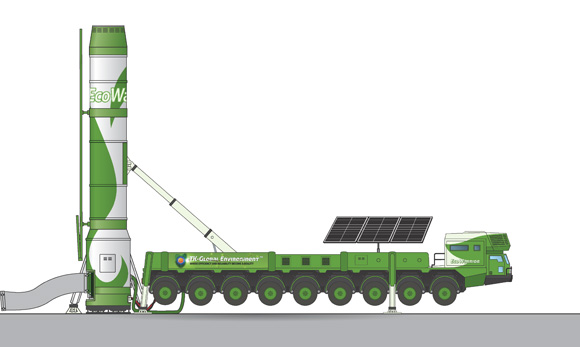 Chimney operation filtering fumes including Eco Warrior Independence's - Self sufficient eco-greeen solar panels system
Eco King Warrior Independence

Eco King Warrior Independence and Power Plant Trailer

Retractile safety legs for improved security & strenght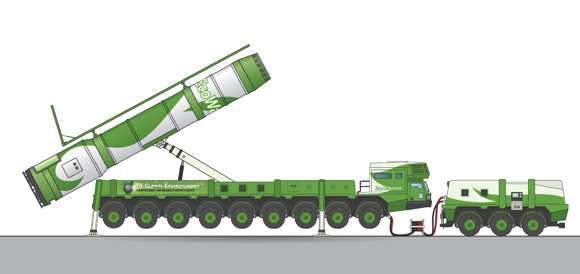 Extending chimney with integrated arm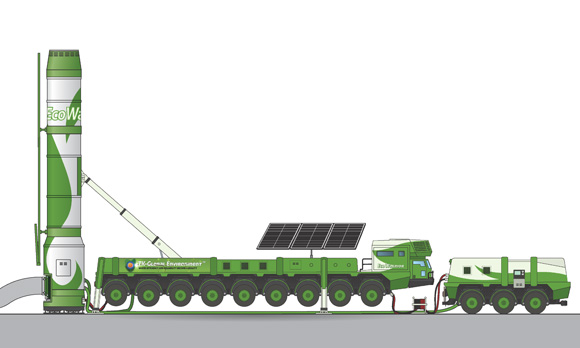 Chimney operation filtering fumes including those of the Eco King Warrior Independence and the Power Plant - Self-sufficient eco-greeen solar panels system
Eco King Fighter

Eco King Fighter with Extensile Mobile Chimney and Power Plant Trailer

Extending chimney with integrated arm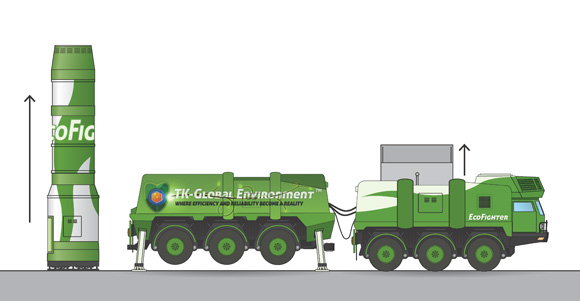 Unfolding chimney - Retractile safety legs for improved security " strenght - Eco King Fighter deploying solar panels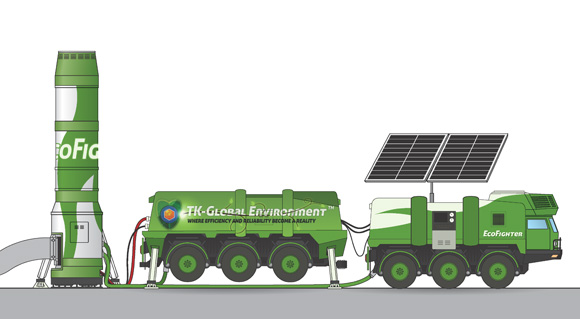 Chimney operation filtering fumes including those of the Eco King Fighter and the Power Plant - Self-sufficient eco-greeen solar panels system
Thus reducing, recycling, decontaminating partially or fully up to 100% of all CO2, CO, and other types of chemicals expelled, emitted from these industries as chemicals known as SO2, NOX, SO3, and other kinds of visual, sensorial, health related contaminating materials which can be expelled into any airborne, water based, filtering levels, which the outcome will be environmentally devastating at short, medium or long term not only to the environment but also to any living species including the human race.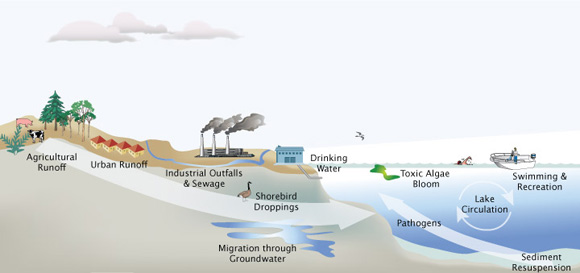 The most important issue in today´s "Pro-Environmental World" is not only how to reduce contaminating industries but also how to retain, obtain, contain and recycle these contaminated materials and to environmentally deal with them in a more ecologically friendly manner by recycling, destroying ecologically or re-using them again in the same production systems thus always creating the products one desires without any after effects as would normally happen without these eco-friendly, environmental protection technologies which TK-Global Environmental have designed, tested and making available to any government or industry without great infrastructure changes-investments, design, implementation and/or operational changes.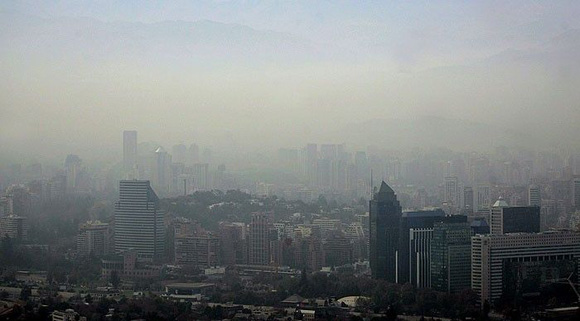 These specially designed TK-Global Environment Mobile de-contamination, recycling units are designed to handle any size industry as a long term ecological-decontamination, recycling alternative, and or being used in the event of needing cooling towers, exhaust, chimney, extraction repairs or maintenance programs, and having these systems and technologies installed temporarily to not having or needing to shut down partially or fully an operational plant due to any technical, safety or security reasons with these exhaust, chimney, extraction, emissions plant systems including industrial cooling towers maintenance & repairs.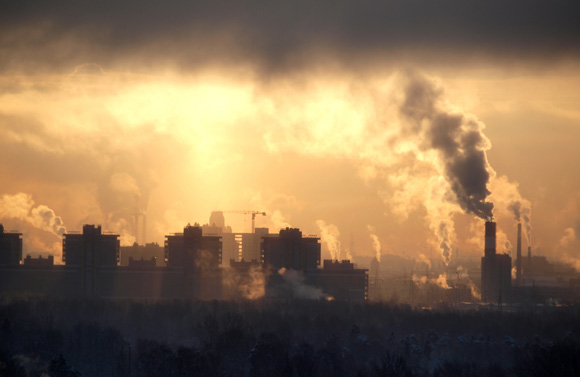 In today´s world, the operators of the respective energy plants not only have to deal with ever increasingly stringent contaminating regulations, but via the use of our TK-Global Environment Chimney Filtering Technologies they will also learn, appreciate that eco-friendly high-technology can also be financially rewarding as being a much more efficient and less contaminating industry which will benefit all parties involved.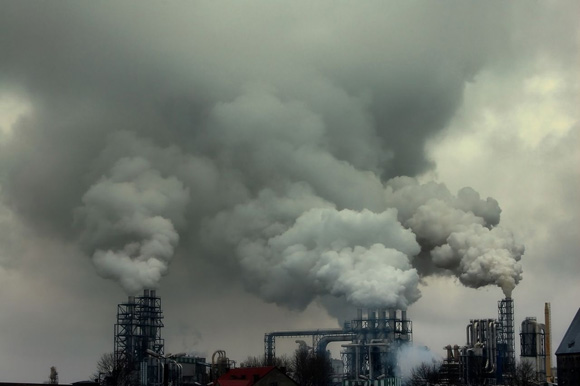 Our specially enhanced TK-Mobile Chimney Filtering Technology also offers the opportunity to re-use and recycle these contaminating materials. As after they have been filtered out, retained, recycled they do not enter the environment at any level thus providing the possibility to reduce the industrial plants carbon footprint and in doing so, producing financial carbon credits or discounts, etc.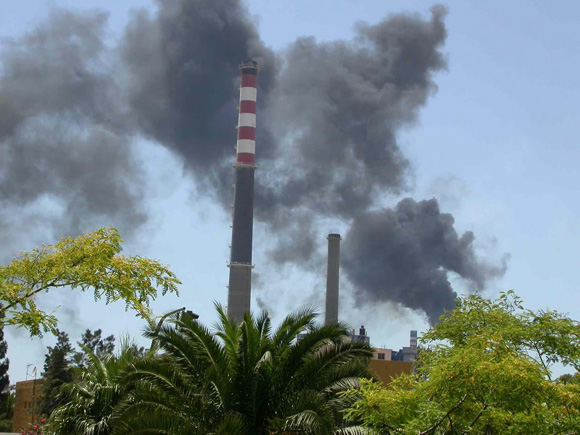 Another benefit is that as these materials are re-usable, they can be used again to increase production, hence they do not need to be repurchased and in certain cases be even more environmentally friendly.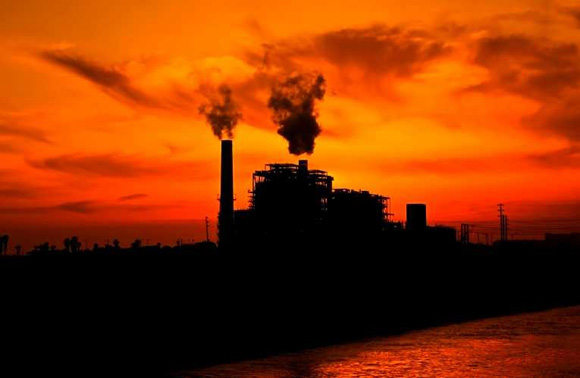 Thus via incorporating our TK-Mobile Chimney Filtering Technologies into the above mentioned production factories, industrial power plants these will not only be more compliant to the ever increasing environmental regulations but they also will be a more responsible operator to both present and future clients.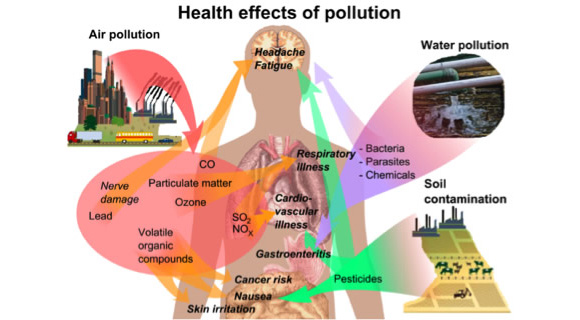 Therefore, they will be able to apply for more government and financial benefits and probably more importantly, they will be in good standing with corporate governance of the corporation.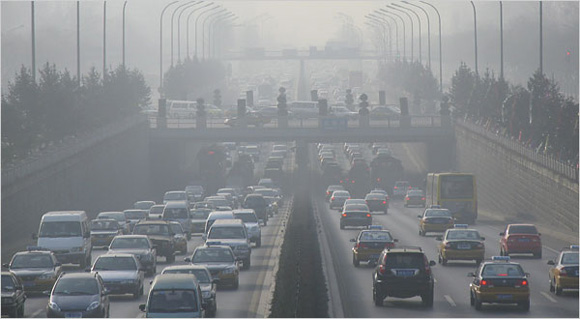 As per above, due to the requirements of each client being different we at TK-Global Environment will need to design a complete study and custom built application process specially tailored to that respective client. This will include building procedures so as to satisfy the needs and viability of the investment.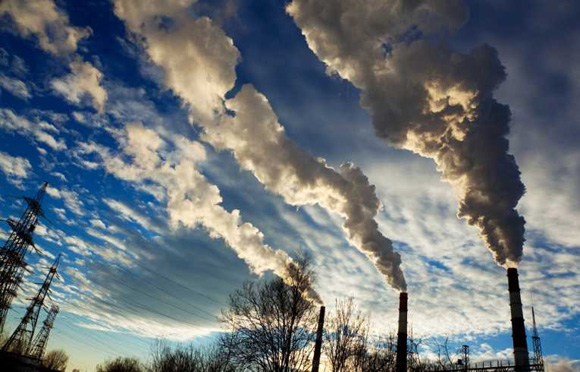 TK-Mobile Anti Fire/Heat/Thermal Protection Cooling Tower Systems
TK- Thermal Cooling Tower Technologies and Operational Recycling Systems.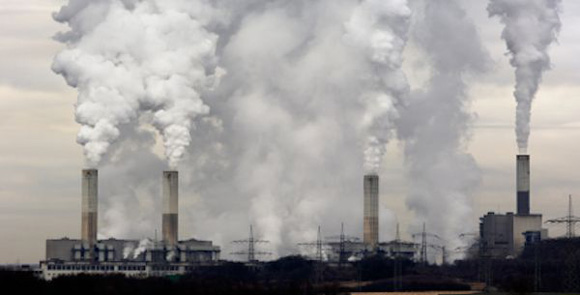 Professionals in all power related industries understand not only the complications and issues but also the paramount importance for the cooling and filtering of heat, fumes and/or gases within all types of industrial plants.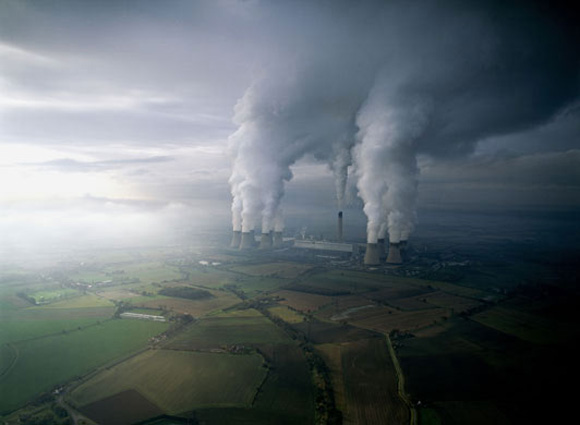 In modern technologies cooling has become an essential influence especially within areas such as the production of electrical energy i.e. thermal processes.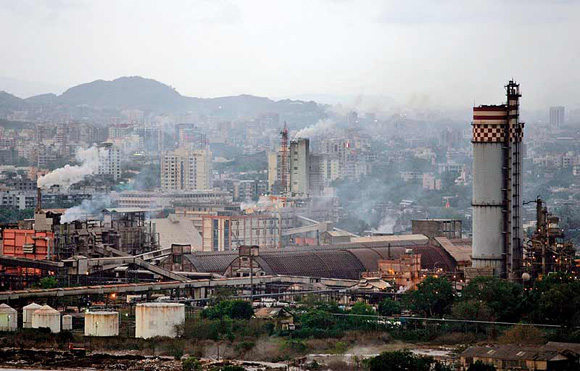 Hence the R&D department within TK-Global Engineering & TK-Global Environment have jointly developed new applications using our own specially designed products and patented technologies.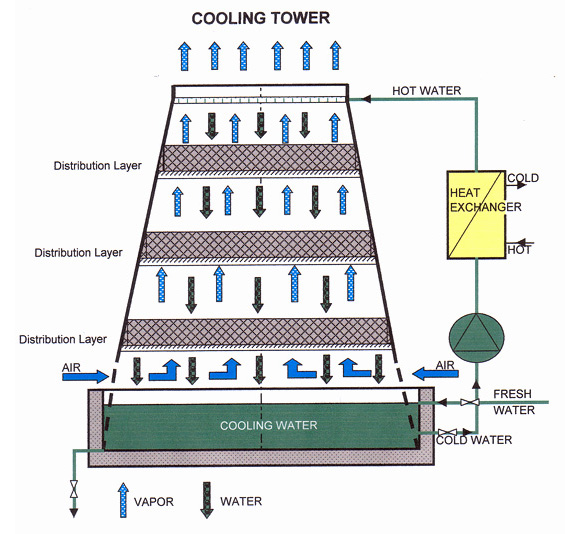 Process:
The hot cooling water rains down from the top of the Cooling Tower and is distributed horizontally by various distribution layers.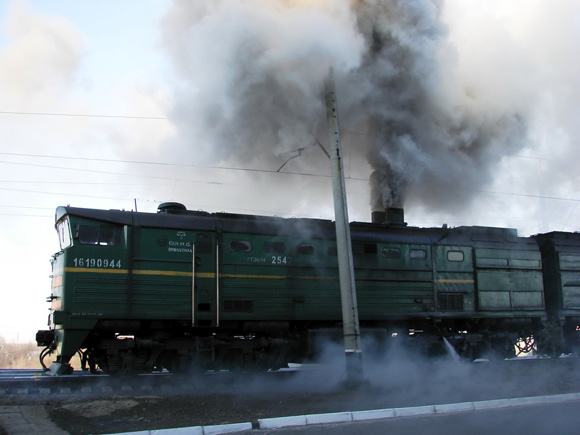 The cooling air falls on the bottom of the Cooling Tower and returns up to the very top of the Cooling Tower and in this continuous manner the air is heated and the water is cooled down.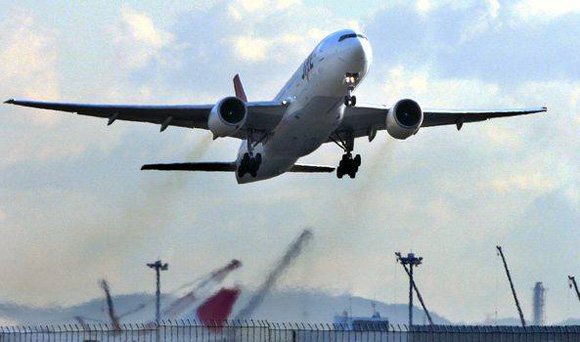 In the distribution layers there are distribution units made out of plastic material which have a large distribution surface. The heat transfer capacity of plastic is low (under 1 Watt/m.k2). The cooling of the hot water distributed on the top of the first distribution layer is done via vaporization until the air is saturated and by direct heat transfer between surfaces of the water to the surface of the air.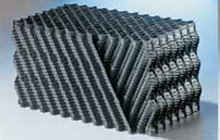 In some regions especially in the tropics the "Air" which is used in the cooling process contains a large number of impurities like organic seeds and pollen. These impurities stick to the surface of the distribution layers. With the temperature in the middle layers and the humidity they start to sprout and form an organic layer on top of the distribution layers.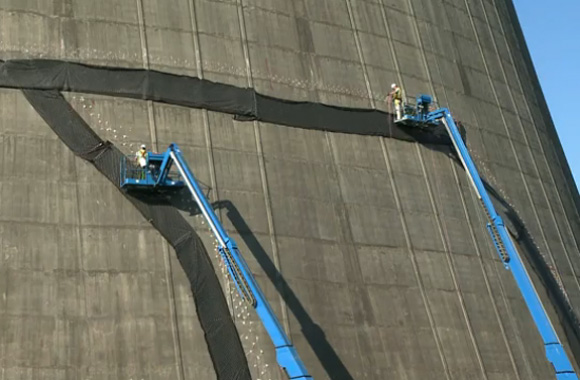 Gradually the efficiency of cooling system starts to be reduced as the air velocity increases or the air capacity is reduced. This is caused due to having less capacity as a result of the impurities reducing in volume.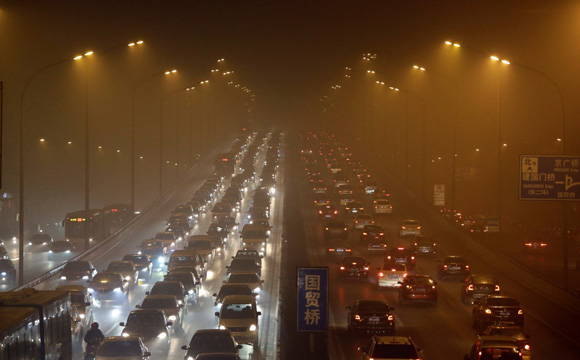 In this case the operator has to clean the layers of waste, debris or impurities which have become part of the cooling system. This organic layer reduces the available cooling air capacity where the cooling air has to pass through. A reduction of the efficiency of cooling increases the cool water temperature on the bottom and reduces the energy output of the plant. (In humans this would be like having cholesterol in the blood stream and Technokontrol Technologies avoiding the problem from the very start).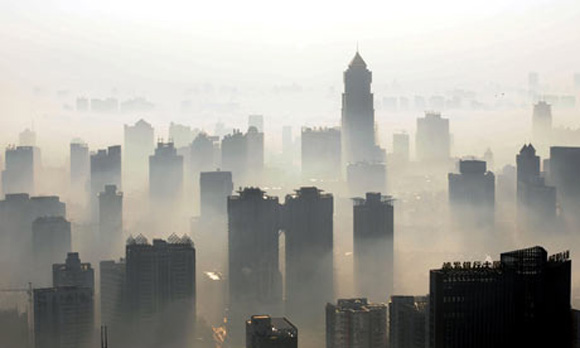 TK-Global Environment & TK-Global Engineering Cooling Technologies will avoid these above mentioned issues and will allow the plant to work in a much more efficiently manner thus reducing waste inputted fuel and increasing the net energy output.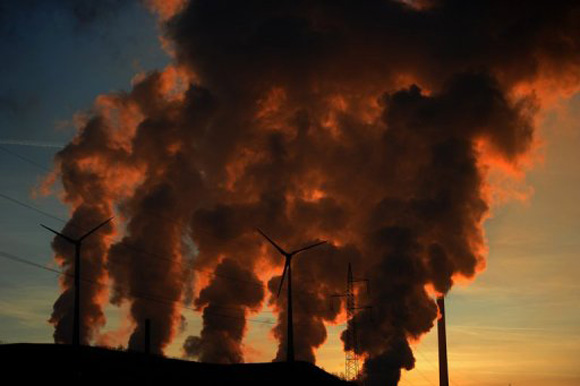 The heat transfer capacity of Technokontrol Cooling Systems is extremely high (202 Watt/m.k2). This effect gives a third component of heat transfer.

The cooling of the hot water distributed on top of the first distribution layer is done by:
Vaporization until the air is saturated
By direct heat transfer between surface of the water and surface of the air
By direct heat transfer of the metallic surface of the distribution layer to the air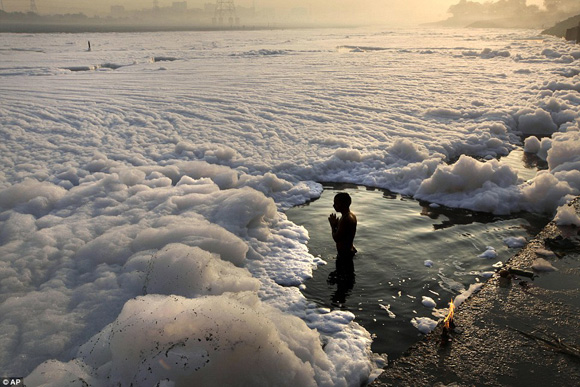 The unique and patented alloys installed and implemented into the distribution layers are supported on a substructure system which are isolated against the cooling tower walls. In doing so, a low electric charge is kept in the distribution layer.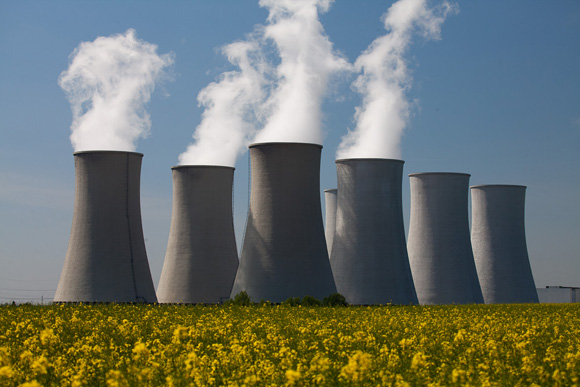 The polished surface of the distribution layers together with the low electric charge secure that seeds and pollen would not stick to the surface and even if they did stick they would not sprout as would be the case without the use of Technokontrol Cooling Tower Systems.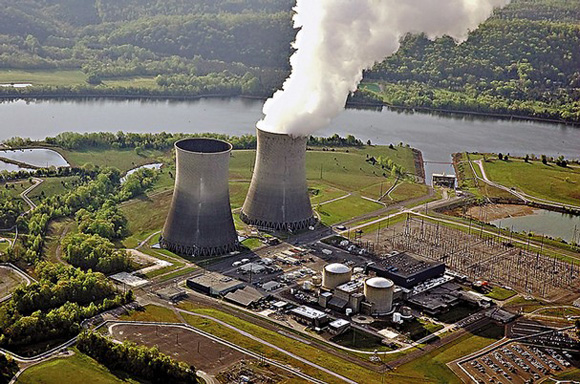 Therefore there will be no reduction of the area where the cooling air goes through, the efficiency of cooling remains constant and no maintenance is required.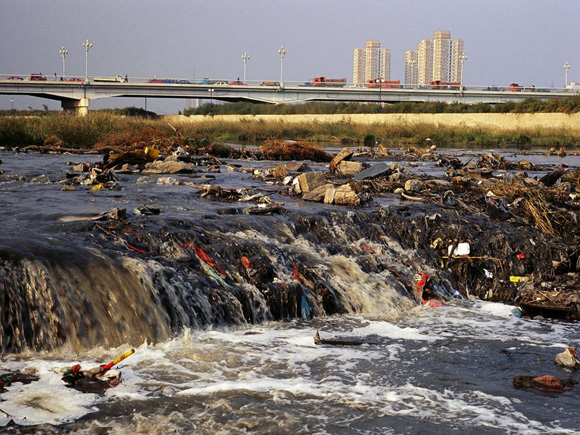 The efficiency of cooling depends to a very large extent on the local conditions (humidity, air temperature, impurities in air etc.) and on the specific requirements of the power plant. To reach the best possible results by application of the Technokontrol Cooling system in existing Cooling Towers it is therefore absolutely necessary to make a complete independent Test Program.
The size of the test unit and the instrumentation is necessary so that the data received can be compared with the larger unit, thus creating a test trial to calculate the comparison between the two and adapting the technology directly to the needs of the tower cooling systems.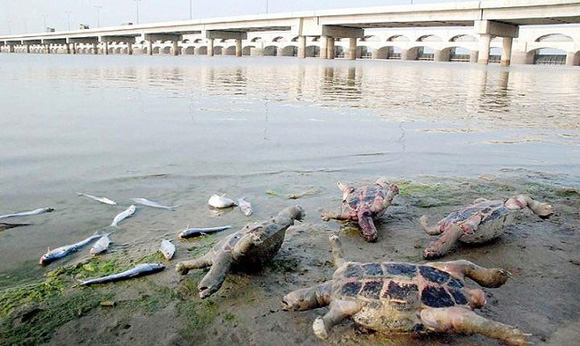 Aim of the Test Program
The aim of the Test Program which will be executed by the above apparatus is to determine design parameters, form of the distribution network, amount of water and temperature, velocity of the cooling air and cooling air temperature for existing cooling towers. To obtain the necessary parameters for the apparatus a series of tests have to be made and the respective data fixed in curves.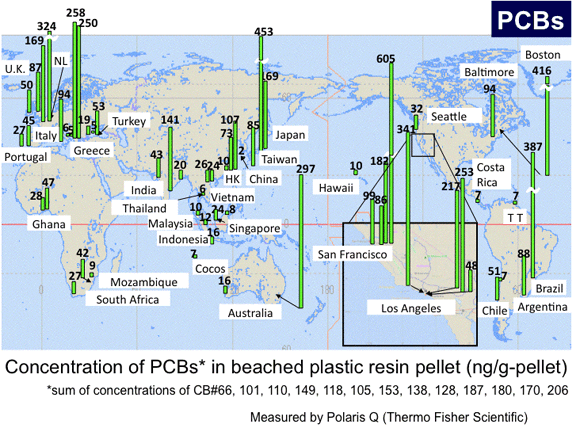 TK-Global Environmental & Engineering Chimney Filtering Systems
Technokontrol Chimney Filtering Technologies have also developed the technologies and products not only in increasing partial and or total output in cooling standards, figures, for example, but also to create a long lasting, efficient, recycling filtering technology in which we can filter all types of fumes, vapors and gases which are contaminating or non contaminating to the environment thus reducing CO2, CO, SO2, NOX and other contaminating materials, metals, composites, which can cause great environmental damage as "acid rain".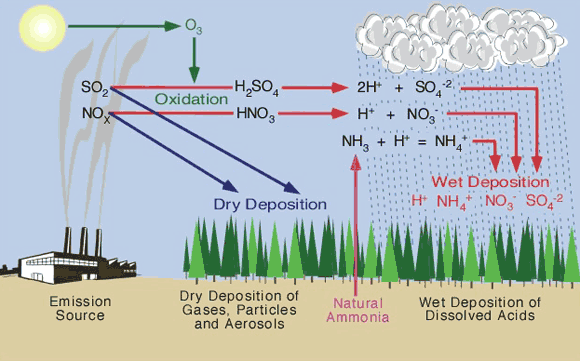 Countries, Regions, States as in the Ecuador Amazon or for example Lagos, Nigeria where "acid rain" has become a long term issue and not mentioning all of the billions of USD lost in production, environmental damage with over 11 billion USD in environmental courts cases claims at present against producers/operators due to crude oil, spills, pipeline vandalism, theft, sabotage, terrorism, common crimes, etc and the never ending nation or government environment fines being paid yearly.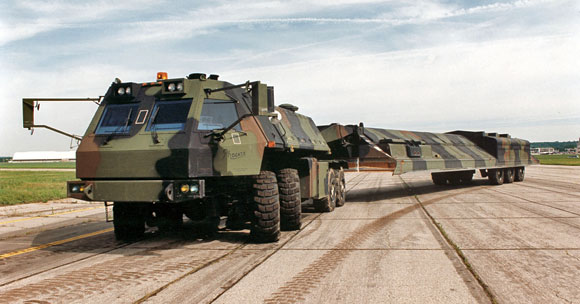 Technokontrol Certificates & Associations
Technokontrol Manufactures, Designs & Researches our safety products in the European Union at the highest possible International Accident,Health & Safety standards.
TechnoKontrol is a member of the NFPA

TechnoKontrol Products are ATEX Compliant
(European Antiexplosive Safety Directives)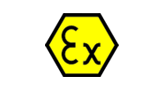 Technokontrol's Products & Services are insured by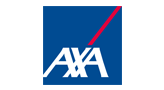 Certificates