Techno-Kontrol Collar System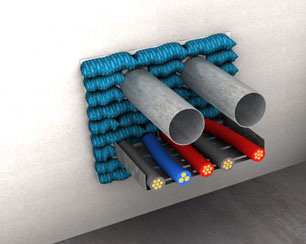 It has been proven that a penetrating fire will pass through from one side to another of a plastic pipe breaking any possible safety barrier presented.
Therefore, all building regulations now specify that the fire rating of the separating building element must not be impaired by services that pass through them. 
That is why our Techno Kontrol Collar System was developed. The Techno Kontrol Collar System is the latest generation of retrofit fire collars designed so as to protect plastic pipes from penetrating fire rated elements of a buildings construction.  The collar is designed to be cut and snapped to the required length.
The multiple length collars can be sized to fit almost every application thus requiring only one product. Our Techno Kontrol System uses an in tumescent sealant in order to close any gaps found around any;
Mechanical and/or electrical services
Fire resistant floors and wall joints
Partition joints
In tumescent sealants such as that of the Techno Kontrol Seal have a proven excellent adhesive property for the sealing of joints and penetrations for up to 4 hours.  It bonds to dust-free masonry, concrete, calcium silicate boards, gypsum, metal and cable covering.  The product remains flexible after curing to accommodate thermal expansion.
PROMASEAL is available in standard 310mm cartridges.
Techno Kontrol Cable-Pipe Filler System
Our Techno Kontrol Cable-Piper Filler System maintains the fire resistance of walls where opening services are located.  The pillows can provide permanent protection from the spread of fire; however they are ideally used in temporary openings which require fire protection.  The compressible fire stopping filler systems are made from quality woven envelopes, encasing a fire resistant material which is simple to install, reusable and maintenance free which makes these the ideal solution for your penetration requirements.
Techno-Kontrol Blocking System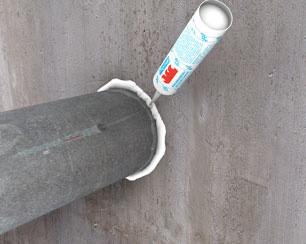 Our Techno Kontrol Blocking System is based around an energy absorbing compound system used to form seals around penetrations through fires and blast resistant walls, floors and ceilings.  It performs equally well in concrete or masonry structures, as well as Dura Systems & proprietary systems.
Our Techno Kontrol Blocking System retains its mechanical strength during a fire and will withstand both vibration and expansion.  Its seal is water and gas proof and will withstand the thermal shock and erosive action from a hose stream of water in the event of a fire.
Our Techno Kontrol Blocking System is able to absorb an extremely high amount of heat absorbing heat and is applicable to cable trays, cables, pipes and other metal penetrations which may require sealing.
This product will also stop the passage of chlorine and toxic gases generated by a fire thereby reducing the risks to both people and property.