Techno Kontrol Blast Resistant Systems
Having foreseen the threats that the world is well aware of today, Techno Kontrol Systems have prepared solutions in order to combat threats that are raised by terror organizations.
Techno Kontrol prides itself on designing and implementing physical security features for all types of installations such as;
Providing blast protection for structural elements
Force entry protection
Pedestrian/vehicle entrances and barriers
Ventilation systems used in providing fresh air and smoke exhaust in the event of an emergency.
The directors of Techno Kontrol have used the knowledge they have gained within other industries (linked to that of both health and safety) so as to develop a product line that will help to protect people and their property from terrorism.
Our Techno Kontrol Alloy Systems product lines (i.e. tanks, walls, doors, panels and clothing) have all been tested on both qualified experts and/or their vehicles by simulating thermo heat, blasts and explosive devices in order to ensure that our products are 100% blast resistant.
Ventilation systems supplying pressurization air or smoke exhaust are also very important for building occupants in the case of a fire or bomb.  Hence all of our Techno Kontrol products have been tested for fire protection as well as structural integrity in the case of a blast scenario occurring.
In several blast tests with gas bottles, fuel tanks and pipelines one can see the effect of Techno Kontrol and its derivatives.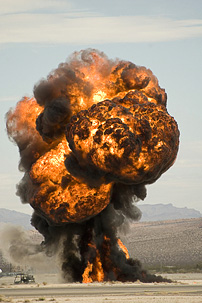 In today`s heated and volatile security environment, protecting human beings and their property is a large concern of many companies, organizations and governments and we at Techno Kontrol take this responsibility very seriously.
Within the construction industry today, there is a current trend to develop a more "open plan" environment.  This "open plan" environment however, reduces the compartmentalization of a building´s interior, consequently providing less mitigation of the effects from a blast/bomb.  In such instances the role of protecting these spaces becomes increasingly important.
In order to address this issue the team at Techno Kontrol used its knowledge of blast protection in order to develop an interior partition that would protect against the force of an air blast and glass fragments. By making small modifications to some of Techno Kontrol´s fire wall products, we have been able to produce a wall system that will absorb this type of force.
Techno Kontrol´s security blast walls have many features. The product is relatively lightweight and should not require increased structural reinforcement.
Techno Kontrol security walls, boards, panels are easy to install but in our economic times, probably more important is that they are easy to dismount and relocate. This along with the fact that they come with a comprehensive service and maintenance package means that they are extremely cost efficient.  One significant feature of our wall system is its post blast fire protection and our sales team would be happy to discuss this aspect with you on a more personal level.
Also if your requirements cannot be met by any of our main stream products, we at Techno Kontrol will be happy to provide you with a customized engineered solution in order to ensure your security / safety needs are met.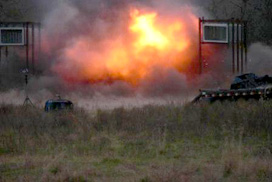 Another area which is paramount in the manufacturing, installation and operation of Techno Kontrol´s fire and blast systems is that of enclosures health and safety. The team at Techno Kontrol holds over 25 years of experience within the enclosure-oil-fuel industries. Techno Kontrol designs and manufactures passive fire and blast enclosure systems for the industrial, commercial and institutional market place.
Our ability to supply specialized enclosures helps protect equipment and personnel in hazardous environments both on and offshore. Techno Kontrol enclosures are designed and manufactured specifically to fit vulnerable and critical equipment.
As mentioned above, Techno Kontrol can provide up to 6 hours of protection against flame temperatures which are in excess of 1,600°C.  Features such as resistance to blast and jet fires can be incorporated into the systems design.
Techno Kontrol Blast Enclosures have been used in the following applications:
Cable tray enclosures
High voltage electrical equipment enclosures
Oil and Gas pipe enclosures
Ductwork Fume hood exhaust Petrol stations Valve actuator enclosures Fan enclosures
Compressor enclosures
Fuel pipe enclosures
Dust collector enclosures
Chemical storage enclosures
Gas bottle storage enclosures
Heat shield enclosures
Blast enclosures
Spray Booths
Storage Vaults, Stairwell and Escalator enclosures
Transformer enclosures
Each enclosure is constructed utilizing Techno Kontrol technology. Techno Kontrol alloys, panels and systems are comprised of patented alloy material manufactured in a three dimensional manner mechanically produced into a mesh, ball or textile format to form a unique non-combustible material that is Fire, Blast, Moisture, Corrosion, heat, sound and electromagnetic wave resistant.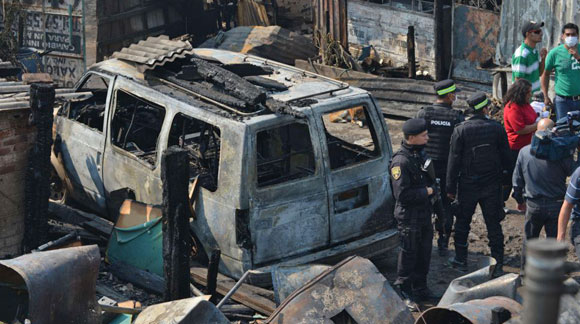 Techno Kontrol enclosures are long lasting and virtually maintenance free. Each enclosure is available in multiple finishes for superior corrosion and weather protection.
Enclosures are available in almost every size and shape. Enclosures such as cable tray and pipe enclosures are available in one, two, three or four sided applications.
Enclosures can be shipped in either modular sections or pre-assembled
for quick and easy installation.
In the case of blast, fire, heat or explosions Techno Kontrol Systems can guarantee that we will perform as no other product in the market, especially, in the oil-gas-chemical industries.
Video Presentations