Techno Kontrol Automotive & Racing Sports Safety
Vehicle Explosions
While there were many attempts at producing a car throughout history, the first iteration of the modern day car was invented by Karl Benz in 1885 and was referred to as a "motor wagon". The original car had three wheels (two in the back and one in the front) and was powered by a four-stroke cycle gasoline engine. The four wheel car that we know today was not invented until 1893.
As within all walks of life, throughout history the car has kept evolving and each year attempts are made so as to bring new; safer models to the market. Over time features such as; seat belts, air bags, anti-lock brakes etc. have all become standard and they have all improved the safety aspect within the modern day car. One such improvement was that of changing where the fuel tank is located.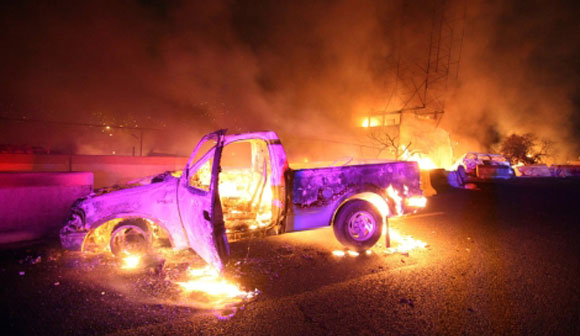 Within older vehicles, the fuel tank was often located behind the rear axle of the car. This location was problematic due to the fact that it placed the fuel tank within what was commonly known as the "Crumple Zone". The Crumple Zone is designed so as to absorb most of the force during impact within a crash and if located in the crumple zone, the fuel tank is obviously more exposed to damage and may even catch fire or explode.
Modern day cars however are designed differently and the fuel tank is more often than not placed in front of the rear axle and away from the Crumple Zone. In doing so, the motor industry has reduced the opportunity for the fuel tank to become damaged in an accident and hence they have reduced the chance of a fuel tank exploding..
However unfortunately, there is always a risk (however minor) that the fuel tank can still become damaged during an accident. If damaged, it is very common for oxygen to enter the fuel tank and mix with the heat from the engine. When this happens a spark ignites the fuel tank and an explosion or fire will take place (please refer to the B.L.E.V.E effect for more information). Hence car manufactures still advise the victims of a car crash to move away from the accident as soon as possible so as to protect themselves against any danger of such an explosion.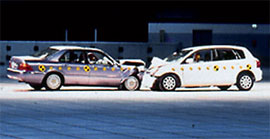 A car collision can turn fatal when a fuel tank is punctured and a fuel-fed fire explodes into flames. It is common knowledge within the industry that more people die every year from fires that occur within cars than they do from fires that occur within apartments, yet this very important issue keeps getting overlooked by the respective authorities. According to both the American Automobile Association & the National Fire Protection Association, there were 266,000 car fires in 2004 that resulted in 520 deaths. For Techno Kontrol that is 520 deaths too many.
What can cause a vehicles fuel tank to catch fire? Apart from the obvious (i.e.a rear-end collision) the following can cause a fuel fed fire:
A badly placed gas tank and/or an unshielded fuel system can also cause a fuel fed fire which in turn can lead to either serious burns or wrongful deaths.
Faulty wiring can also cause car fires whereby an ignition system and/or a cars electrical system can short out which in turn can cause a spark that causes a cars fuel tank to catch fire or to explode.
Fluid leaks, damaged fuel lines, hoses, caps, and filters can all cause fuel fed fires within the fuel tank.
A fuel-fed car fire is rarely a fire that develops slowly and a fire that is fed by gas, oil, grease, and/or other flammable liquids is obviously going to expand quickly, causing severe burns to people who are in or near the vehicle.
There are two technologies are used to make fuel tanks for automobiles:
Plastic high-density polyethylene (HDPE) fuel tanks made by blow moulding. Manufactures are now using this technology more and more due to its capacity of being able to obtain very low fuel emissions. HDPE can also be moulded into complex shapes, which allows the fuel tank to be mounted directly over the rear axle which obviously saves space and improves safety in the case of an accident. Initially there were some concerns over the low fracture toughness of HDPE, when compared to steel or aluminium. These concerns came to fruition through several recorded cases in which the vehicle´s tank design caused the fuel to dissolve particles of its fuel tank fibre. This action can potentially block up the fuel filters and could even make the plastic structure weaken allowing it to be damaged much easier in the case of an accident.
Metal (steel or aluminum) fuel tanks welded from stamped sheets. Although this technology is excellent on limiting fuel emissions, it tends to be used less within the industry due it to being more expensive.
Although modern cars often use a remote opening feature within their fuel tanks i.e. electric motor or cable release systems which are used for both convenience and security as many of the modern fuel tanks cannot be opened by hand. In addition to this several television documentaries have dismissed the risk factor of exploding fuel tanks, however after receiving many complaints they have all had to retract this statement.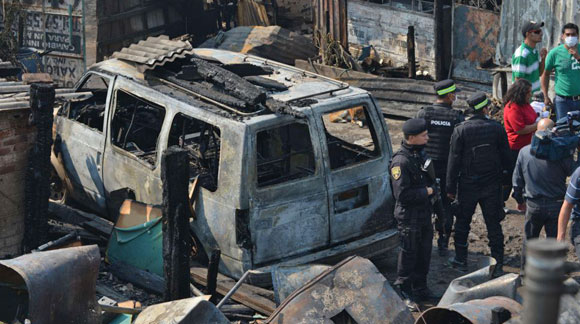 In reality and regardless of whether or not the fuel tank is made of either HDPE or steel, all fuel tanks are dangerous and should be treated with extreme caution. In fact no manufacture is able to guarantee that their fuel tanks will never explode. However if Techno Kontrol is correctly placed it is 100% anti explosive and thus we can potentially change the way fuel tanks are protected forever.
We at Techno Kontrol have made our product easy to install and as such our specially designed ball material can be manually introduced into any accessible fuel tank such as a motorbike, powered engine or even a lawnmower. However in the event of a car and as stated above, we recommend that the introduction of our product is made by an authorized Techno Kontrol Expert.
We also believe that many clients would be prepared to pay approximately 150 dollars (depending on the size of the fuel tank) more for their new vehicle, especially when insurance companies begin to offer up to 30% discount on their insurance premium for doing so.
Techno Kontrol Racing Safety
At present within the motor racing industry racing fuel cells are used. These fuel cells are developed with a flexible inner layer so as to minimize the potential for punctures in the event of a collision or any other type of mishap resulting in any serious damage to the vehicle.
They are filled with an open-cell foam core so as to prevent an explosion of vapour within the empty portion of the tank and to also minimize the sloshing of the fuel during competition. The sloshing of the fuel may cause the vehicle to become unbalanced or cause the fuel tank to deliver an inadequate amount of fuel (fuel starvation) to the motor.
This system is an extremely expensive option and in many cases such as that of Formula One they have to be changed several times throughout the season. The Formula One industry also uses other alternatives such as fuel cells protected or covered with Kelvar, however, none of the above are anti-explosive.
Other types of racing vehicles use the steel manufactured fuel tanks which although are well protected they can also explode in the event of a leakage, damage or of an accident. Using Techno Kontrol will not only stop any explosion but it will also reduce the "slosh" movement which in turn will increase the stability of the vehicle.
Also in an industry which is constantly looking to reduce its high operational costs, Techno Kontrol can help as due to the fact our product is introduced in a ball format the product can be easily transferred from one fuel tank to another thus the respective teams do not need to keep re-investing (as they currently do) in purchasing new products.
Finally, as the Paris–Dakar race is known as one of the toughest most demanding motorsport races in the world, what better way for Techno Kontrol to demonstrate its quality and performance than have it installed in the quad champions vehicle within the 2008 race. Also in addition to this we continue to provide exclusive car manufactures (such as Trasmotana) and many of Spain´s Government, VIP´s and it´s Security Forces with our product.
Fox Sports News 5th may 2011
V8 Supercars Car of the Future to relocate fuel tanks after Reindler-Owen Perth crash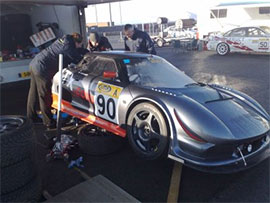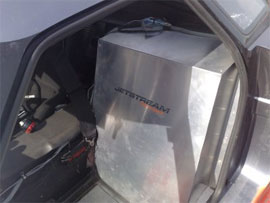 Changes to V8 Supercars planned for 2013 are set to ensure no repeat of the horrifying explosion in Perth which left driver Karl Reindler with burns.
The Car Of The Future design, to be introduced in two years, will move the V8 Supercar's fuel tank further forward.
This would prevent any repeat of the fiery aftermath of the crash at the Trading Post Perth Challenge, when the West Australian's car stalled on the grid and was rear-ended by another car, piercing the fuel housing and sparking a massive fireball.
The 26-year-old was forced to flee his burning wreck and was lucky to escape with second degree burns to his hands and minor facial burns.
The driver of the other car, Steve Owen, also escaped serious injury.
A review of the actual accident and whether officials reacted quickly enough was launched immediately.
But one of the key elements to preventing a similar explosion has been planned for some time.
And V8 officials say the safety features of their race cars were proven, as both drivers walked away from perhaps the most spectacular accident in the sport's history, with their cars left fire-whitened write-offs.
"In the Car Of The Future design, which was unveiled 18 months ago, the fuel tank has been moved well forward for that very reason," V8 Supercars' spokesman Cole Hitchcock said.
"For an impact of that sheer magnitude and the subsequent explosion, for both drivers to walk away virtually unharmed, from an integrity of car position, the outcome is exactly as we would have hoped."
Car safety and integrity is one of the elements which will be examined in the investigation.
But the issue likely to come under most scrutiny is the reaction time of fire marshals, criticised publicly by senior driver Jason Bright and privately by many others in the sport.
Australian motorsport's governing body CAMS, V8 Supercars and the West Australian Sporting Car Club which run Perth's Barbagallo Raceway are conducting the review.
CAMS have not put a timeframe on when the inquiry's results will be known.
"Given there were no injuries, we'll take our time to look thoroughly at what happened and learn from it," a CAMS spokesman said.
NFPA - U.S. Highway vehicle fires and deaths by year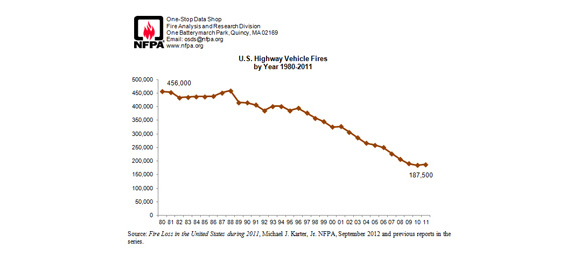 U.S. Highway Vehicle Fires by Year 1980-2000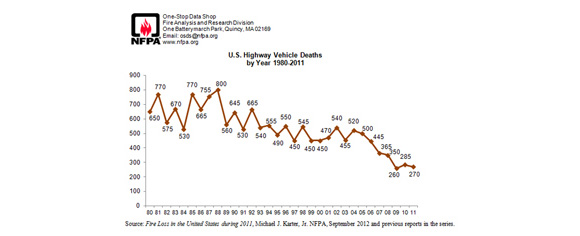 U.S. Highway Vehicle Deaths by Year 1980-2000
Year

Highway vehicle fires

Civilian deaths

Civilian injuries

Direct property damage
(In billions)
As reported
Direct property damage
(In billions)
In 2011 dollars

1980

456,000

650

2,850

$0.5

$1.3

1981

453,000

770

2,900

$0.5

$1.2

1982

433,000

575

3,250

$0.5

$1.2

1983

435,500

670

3,400

$0.6

$1.3

1984

437,000

530

3,250

$0.6

$1.4

1985

437,000

770

3,250

$0.7

$1.4

1986

438,000

665

2,850

$0.7

$1.4

1987

451,000

755

2,900

$0.7

$1.5

1988

459,000

800

2,750

$0.8

$1.5

1989

415,500

560

2,750

$0.8

$1.4

1990

415,000

645

3,025

$0.8

$1.4

1991

406,500

530

2,675

$0.8

$1.4

1992

385,500

665

2,750

$0.8

$1.3

1993

402,000

540

2,400

$0.9

$1.4

1994

402,000

555

2,325

$1.0

$1.5

1995

386,000

490

2,275

$1.0

$1.5

1996

395,000

550

2,075

$1.1

$1.6

1997

377,000

450

1,950

$1.1

$1.5

1998

358,500

545

2,050

$1.1

$1.6

1999

345,000

450

1,600

$1.1

$1.5

2000

325,000

450

1,325

$1.2

$1.5

2001

327,000

470

1,750

$1.3

$1.6

2002

307,000

540

1,700

$1.2

$1.5

2003

286,000

455

1,400

$1.1

$1.3

2004

266,500

520

1,300

$1.0

$1.2

2005

259,000

500

1,450

$1.0

$1.2

2006

250,000

445

1,075

$1.0

$1.1

2007

227,500

365

1,500

$1.1

$1.2

2008

207,000

350

850

$1.2

$1.2

2009

190,500

260

1,455

$1.1

$1.1

2010

184,500

285

1,440

$

1.0

$1.0

2011

187,500

270

1,020

$1.0

$1.0
Highway vehicles include any vehicle designed to operate normaly on highways, such as automobiles, motorcycles, buses, trucks, and trailers, but not manufactured homes on foundations.
Direct property damage figures do not include indirect losses, like business interruption. Inflation adjustment to 2011 dollars is done using the consumer price index.